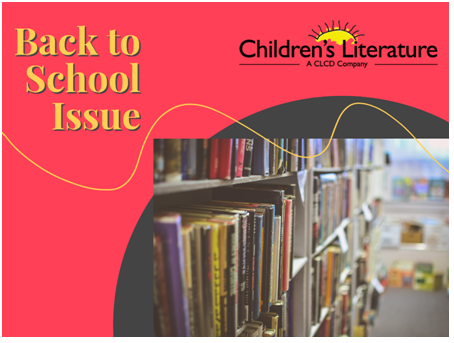 As the school year begins, many students are struggling. Whether dealing with home or school trials, or both, books can help children and teens realize they are not alone. In this issue, we'll share some of our latest reviews about children and teens dealing with anxiety, separation, loneliness, emotions, and ADHD. We'll also share information about the OTTER Award, the perfect award to find books for your young readers transitioning from picture books to chapter books.
Subscribe to ChildrensLit Now Newsletter
In case, if you have missed our previous issue.
ChildrensLit Notable Reviews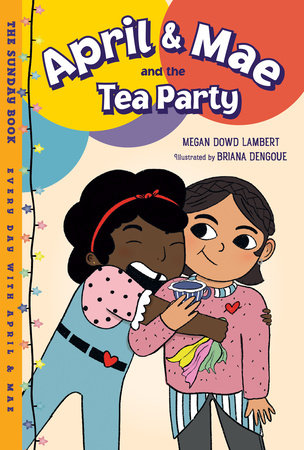 April & Mae and the Tea Party: The Sunday Book
By: Dowd Lambert
Illustrated by: Briana Dengoue
Publisher: Charlesbridge
ISBN: 9781580898867
Reviewer: Kathryn Sadakierski
Friendship is worthy of celebration every day of the week, as this heartwarming book demonstrates. The first in a series of books for each day of the week, it introduces best friends April and Mae, chronicling their routine of having a tea party on Sundays. Despite their differences, the pals find common ground, each contributing their special talents to the tea parties they enjoy, as Mae decorates and bakes while April performs songs and dances. On one such day, the cheerful occasion is interrupted when April incorporates a new magic show into her performance. An errant ball from her juggling act knocks Mae's favorite teacup to the floor, smashing it to pieces. Although this accident leads to an argument between April and Mae that threatens to sever their bond, the two learn to work through their hurt feelings, making thoughtful amends to restore their friendship. Dowd teaches positive social skills by describing the step-by-step process April and Mae take to acknowledge their emotions and heal the rift between them. For children learning to adapt to change, this book offers a reassuring message about how to successfully manage breaks in routine. In addition to being helpful for teachers seeking to promote socioemotional development in early childhood classrooms, this book will appeal to children with its warm, festive full-color illustrations and action-driven plot. Its short sentences, simple language, and onomatopoeia make it an accessible and engaging easy reader. Embracing unity in diversity and guiding children in problem-solving, it is an endearing, joyous book to encourage kindness and forgiveness in young students.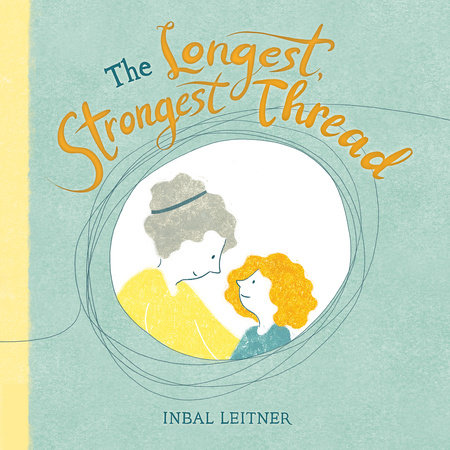 The Longest, Strongest Thread
By: Inbal Leitner
Publisher: Charlesbridge
ISBN: 9781623543594
Reviewer: Molly Callender
A little girl and her grandmother love one another dearly and are saddened that the little girl is moving far away. The little girl is worried that her grandmother won't know where to find her. She desperately wishes her grandmother can join them, but sadly she cannot. She draws maps for her grandmother, showing her exactly how to find her once she moves. The little girl and the grandmother spend time together in the grandmother's sewing studio. As they sew the little girl's new clothes, the grandmother uses the sewing thread as a metaphor. She tells the little girl that they are tied together by the longest, strongest thread and are tethered forever in their hearts. The little girl knows that her grandmother will use both her special map and the thread to secure them together forever and that her grandmother will find her again. This book is a calm, sweet story about a grandmother and her grandchild and the love that binds them together. It is perfect for preschool and early elementary students to help them understand separation anxiety or moving away from a loved one. Children will connect to the simple prose and understand the characters' feelings easily. The artwork is done in gentle watercolor, clearly showing the character's actions and emotions. This book would be a welcome addition to a preschool or early elementary classroom. Children will enjoy reading this book on their own.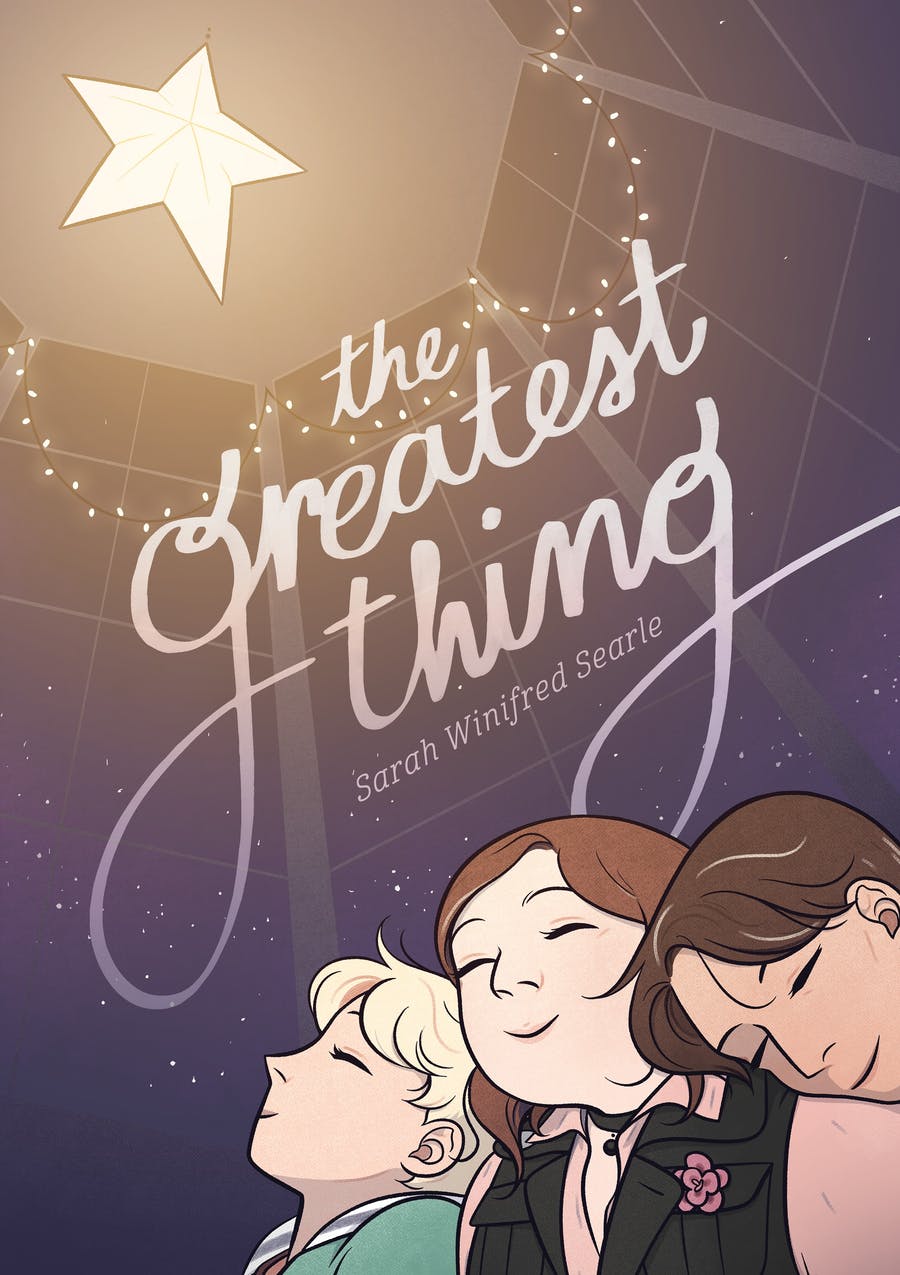 The Greatest Thing
By: Sarah Winifred Searle
Publisher: First Second
ISBN: 9781250297235
Reviewer: Heidi Hauser Green
The first day of sophomore year means big changes for Winifred—and not by her choice. Her two best friends have transferred to a private school, leaving her to start the new year on her own. But things quickly change for the better. A friend from her past realizes Winnie is alone and extends an invitation that makes lunchtime less painful. Art class offers a chance to connect with other students, especially Oscar and April. The three creative souls are soon sharing good times, secrets, and a zine project. But, even as she thrives in her close friendships and feels more seen than ever, Winnie struggles with panic attacks, anxiety, a sense of identity, and an eating disorder. When her inner turmoil leads her to engage in self-harm behavior, Winnie must learn to accept help for herself and her loved ones. The main narrative of Winnie's sophomore year is punctuated with issues from a zine the character and her friends create. Searle's heartfelt graphic novel is loosely based on events and people from her own formative years. It is, as she shares in an author's note, written with the intent of giving readers hope. Readers, she reassures, "deserve happiness. It just might take some time and effort to get there sometimes. And you're never as alone as you think you are." This is a sensitive story told with candor and emotion. A resources page at the back directs readers to three national resources and provides directions for finding local help. Recommended for public and high school libraries.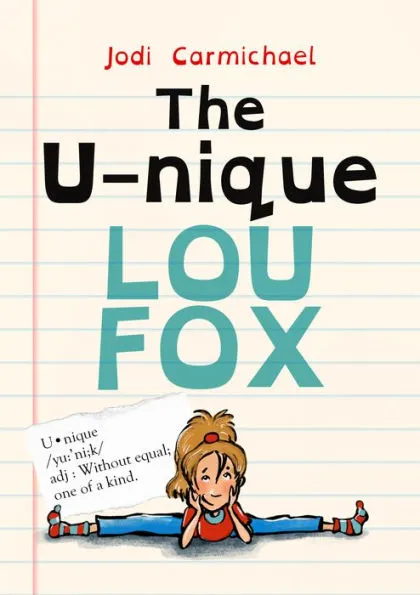 The U-Nique Lou Fox
By: Jodi Carmichael
Publisher: Pajama Press
ISBN: 9781772782585
Reviewer: Joyce Rice
Louisa Elizabeth Fitzhenry-O'Shaughnessy wants to be a great playwright, but she must do something about that name. All her friends call her Lou Fox because that is the stage name she has chosen. Lou is also struggling through fifth grade after her diagnosis of dyslexia and her assignment to Mrs. Snyder's class. Mrs. Snyder doesn't know anything about ADHD problems, and she is always watching Lou like she is trying to figure her out. It makes Lou nervous, and when she gets nervous, she sometimes acts out, which results in a visit to the principal. Lou has other things going on in her life besides just school. Lou and her friends are writing a play together, and naturally, Lou is the director because she is the writer. Surprise news at home is that Lou will soon be a big sister to twins. Lou has had her mom and dad to herself for a long time, and this news is a bit unsettling. Author Carmichael shows the reader characters that are both likable and slow to learn from their mistakes. The storyline is adaptable to middle school and upper elementary. Themes include family relationships, friendships, learning disabilities, and school. The author also has ADHD and addresses the day-to-day difficulties of living with a learning disability.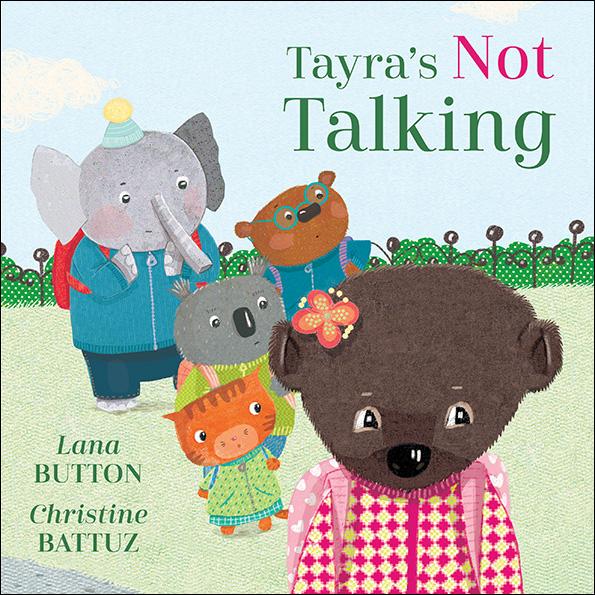 Tayra's Not Talking
By: Lana Button
Illustrated by: Christine Battuz
Publisher: Kids Can Press
ISBN: 9781525304842
Reviewer: Heidi Hauser Green
A new kid has come to school, and the children have questions! Who is this new arrival? How old? But she isn't responding to them. Worse, when they try to speak louder, it just seems to make her grumpy. Even when the teacher asks her "lots of things," the new student only stares in response. The children are unsettled by this silent newcomer, and the situation worsens when she accidentally knocks over one of them. Fortunately, no one is hurt. At circle time, the compassionate teacher introduces Tayra and invites the other students to consider that she may be overwhelmed by the situation. A dose of empathy and the hand of friendship soon smooth over the situation. Tayra may not talk today, but she communicates quite a lot through gestures, drawings, dance, and an enormous smile! This book is an excellent selection for sharing with students who may have first-day jitters, as well as with those who have a new student coming into the classroom. Button and Battuz demonstrate social-emotional skills of acceptance for nonverbal peers and community-building throughout this delightful, pro-social book. Highly recommended for elementary classrooms and libraries.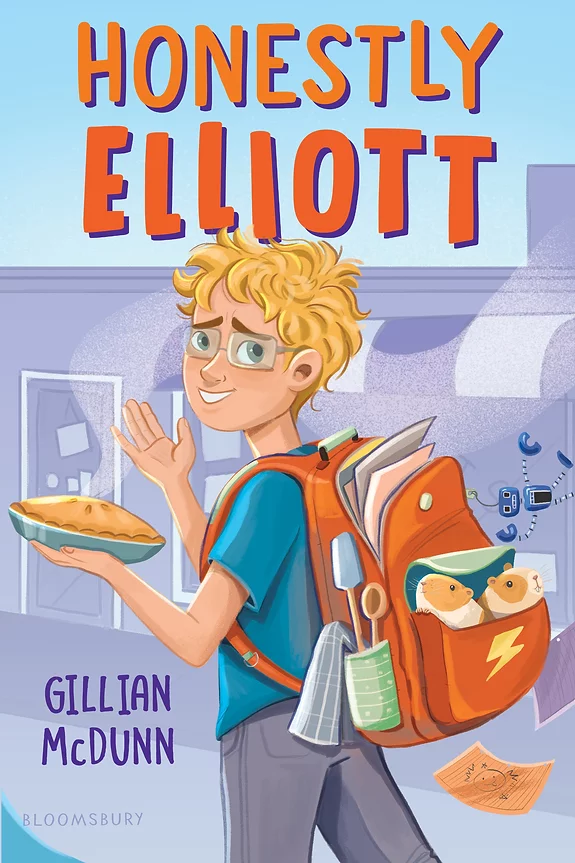 Honestly Elliott
By: Gillian McDunn
Publisher: Bloomsbury Children's Books
ISBN: 9781547606252
Reviewer: Joyce Rice
Elliott's life has been turned upside down. His mom and dad went through a divorce last year, and when they separated, Dad kept the house with a pool and a 3-car garage. Mom and Elliott moved to a small neighborhood with older, smaller homes that his mom could manage to afford. The first person Elliott met after the move was Malcolm, the kid across the street. Malcolm and Elliott became best friends in record time. Malcolm didn't care that Elliott didn't like to play sports or that his favorite thing was cooking. Twelve-year-old Elliott is a whiz at cooking. The kitchen at his mom's and Malcolm's house became Elliott's happy place. Over the summer, things turned upside down again. Malcolm's family moved away, and Dad and stepmom Kate learned they were expecting a baby. Now nothing seems to fit where it is supposed to, especially Elliott. Once school starts again, Elliott is partnered with classmate Maribel for a project. Maribel has celiac disease. She doesn't share this secret with anyone, and sometimes her friends tease her about her funny food choices. While working together on the project, Elliott and Maribel find the freedom to talk about their secrets and discover that things, and people, are not always what they seem. This is an inspiring title for upper elementary readers and students entering middle school. Themes of friendship, trust, and family relationships make this an instruction book for the 12-14 age group.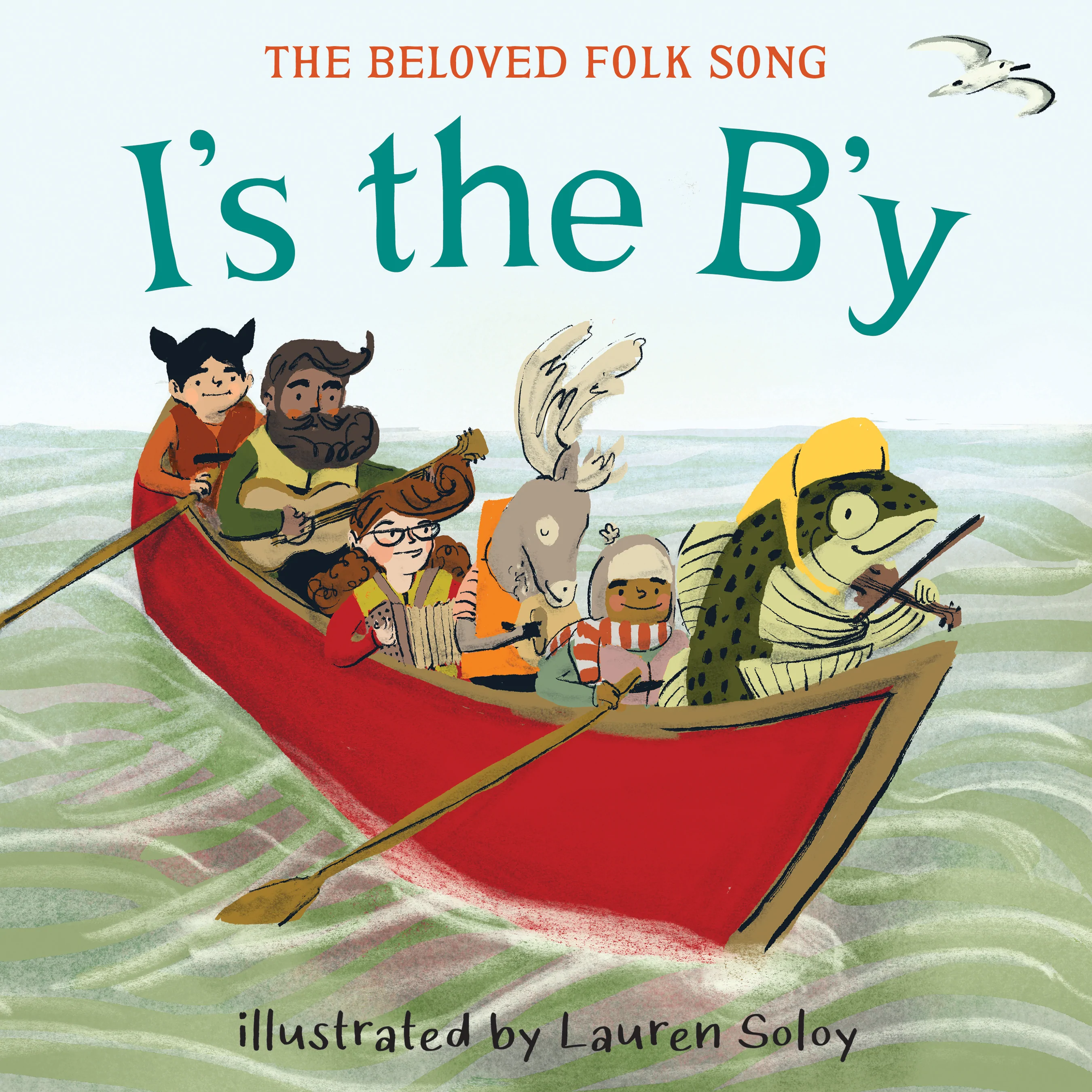 I's the B'y: The Beloved Newfoundland Folk Song
By: -
Illustrated by: Lauren Soloy
Publisher: Greystone books
ISBN: 9781771648332
Reviewer: Polina Mann
This is a wonderful book that illustrates the famous Canadian folk song I's the B'y. I's the B'y means "I'm the boy." It is usually sung by men who built and sailed their fishing schooners from isolated seaports. This book does a great job of ensuring students can sing along while one reads along. The focus is on the pictures, with there being roughly one line of text per page for the verses. The illustrator, Lauren Soloy, did a beautiful job in portraying all of the characters in the book, which invites the reader into this title. The repeated refrain makes it easy to sing along and eventually dance along as the readers get more comfortable. This is a wonderful read-aloud that encourages dancing and singing and should be used in classrooms to build community amongst the students. Highly recommend this title for music classrooms everywhere.

Book Awards You Need to Know
The OTTER Award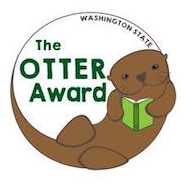 The OTTER Award draws attention to books that help young readers transition from picture books to chapter books. By doing so, the hope is not to lose readers who enjoyed reading picture books but have found chapter books too challenging andstopped reading. Books considered for the award should be within the grade 1-4 reading level and include qualities that help transitional readers, such as meaningful illustrations and text layout. Most importantly, the books should have been read and positively reviewed by children who are transition readers. Additional criteria can be found at The Otter Award Selection (wla.org).
"The goal of the OTTER Award is to highlight titles that are both engaging and developmentally appropriate for readers transitioning into chapter books. With a motto of "books kids like, not books adults think kids should like," student feedback is utilized when selecting the nominees. A maximum of six titles are selected each year."- https://www.wla.org/the-otter-awardWinners are announced yearly in June.
The Washington Library Association's School Library Division sponsors the OTTER Award. For more information about the OTTER Award, please visit https://www.wla.org/the-otter-award. .
2022 Winner
Red Panda & Moon Bear! by Jarod Roselló and illustrated by Nina Matsumoto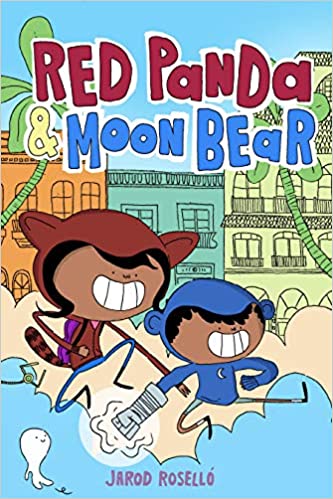 Two Latinx kids battle supernatural threats to their working-class neighborhood with the power of science, magic, and a pair of very special hoodies.Red Panda and Moon Bear are the defenders of their community. Together, these brave siblings rescue lost cats, scold bullies, and solve mysteries, all before Mami and Papi get home. But lately, the mysteries have been EXTRA mysterious. All of Red Panda's and Moon Bear's powers may not be enough to handle spooks, supervillains, alien invaders, and time warps. It'll take all their imagination -- and some new friends -- to uncover the secret cause behind all these events before the whole world goes crazy.
2021 Winner
Sparks! by Ian Boothby and illustrated by Nina Matsumoto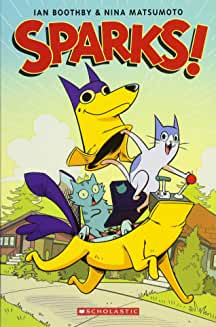 Sparks is a hero and man's best friend, but nobody suspects he's two cats!August is a brilliant inventor who is afraid of the outside. Charlie is a crack pilot who isn't afraid of anything. Together these pals save lives every day. They also happen to be cats who pilot a powerful, mechanical dog suit! Always eager to leap into danger, this feline duo has their work cut out for them as they try to thwart Princess, an evil alien bent on enslaving humankind. Don't let the fact that Princess looks like a cute, diaper-wearing baby fool you. She's clever, determined, and totally ruthless. So, when Princess and the browbeaten fools she calls servants enact a brilliant and dastardly plan to conquer Earth, August and Charlie pull out all the stops to save the day.
2020 Winner
Mr. Wolf's Class by Aron Nels Steinke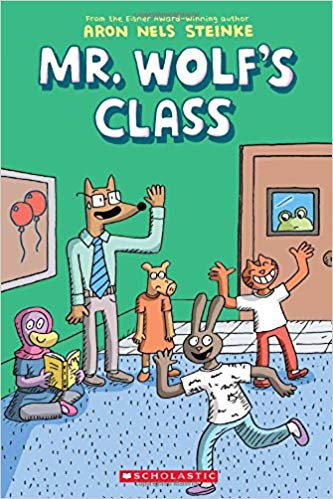 Mr. Wolf has just started teaching at Hazelwood Elementary. He wants the first day of school to go well, but he's got his hands full with his new class. Some of his students include: Margot, who is new in town and is trying to make friends. Sampson, who broughtsomething special to school for show–and–tell. Aziza, who just wants everyone to be quiet and do their work. And Penny, who is VERY sleepy because she has a new baby brother at home, goes missing! This delightful new series captures the everyday –– and unexpected –– ups and downs of a fourth–grade classroom.
ChildrensLit Highlights
★
Children's Literature is now reviewing for Common Dear Press. Common Dear Press is based in Victoria, British Columbia, and distributed by National Book Network.
★
Children's Literature reviewers come from a wide background of working with children and teens. We continue to secure reviewers with unique experiences and skills, and this month we are recruiting former educators. Children's Literatureknows many educators have moved to new careers outside education but still care very deeply about children and their success and the success of their former colleagues. If you are a former educator interested in becoming a volunteer reviewer, please visit
https://www.childrenslit.com/becomeareviewer
to sign up.