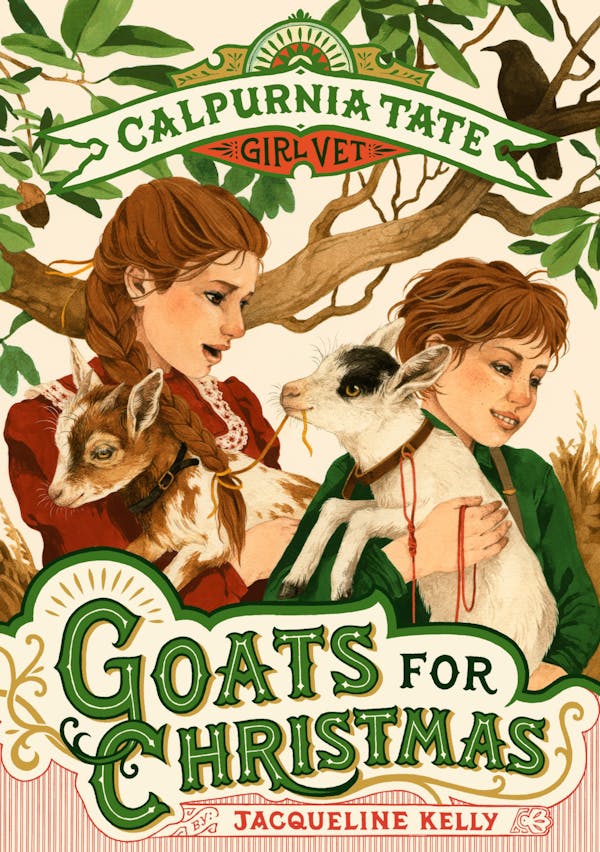 Goats for Christmas: Calpurnia Tate, Girl Vet
By: Jacqueline Kelly
Illustrated by: Jennifer L. Meyer
Publisher: Henry Holt and Company
ISBN: 9781627798792
Reviewer: Kathryn Sadakierski
Christmas is a time of surprises, but in the case of Jacqueline Kelly's new book in the Calpurnia Tate series, goats take the cake. More accurately, they take the local church's Christmas pageant. When Calpurnia and her brother, Travis, are lent a neighbor's two baby goats, they strive to train them in preparation for their debut in the live outdoor nativity, though the goats prove to be more unruly than the pair could have anticipated. Humorous hijinks ensue in this historical fiction novel with an energetic pace and joyful mode of storytelling that will be enjoyed by young readers, especially those with a soft spot for creatures great and small. Written in first-person perspective employing a vibrant voice, the text is elevated by soft, expressive pencil sketches depicting vivid scenes of rural life that allow for further immersion in the rollicking narrative. Aspiring veterinarian Calpurnia, the book's inquisitive protagonist, has many laudable qualities, from compassion to ingenuity, that make her a positive role model. Calpurnia's relationship with her brother, Travis, who is equally passionate about caring for animals, demonstrates teamwork in problem-solving. The industrious siblings resourcefully apply STEAM skills in determining how to use available materials to make something new, including Christmas pageant costumes for other farm animals. While the book may be read as a standalone, it is best read after prior books in the series, as some details about Calpurnia and the age she lives in are not reinforced. However, the absorbing, relatable story is accessible, with a realistic heroine whose moxie will inspire students interested in the sciences as they follow Calpurnia in making observations, pursuing her research questions, and achieving goals against a delightful backdrop of holiday traditions that illuminate Calpurnia's ability to keep the true Christmas spirit, one of kindness and generosity, at the center.