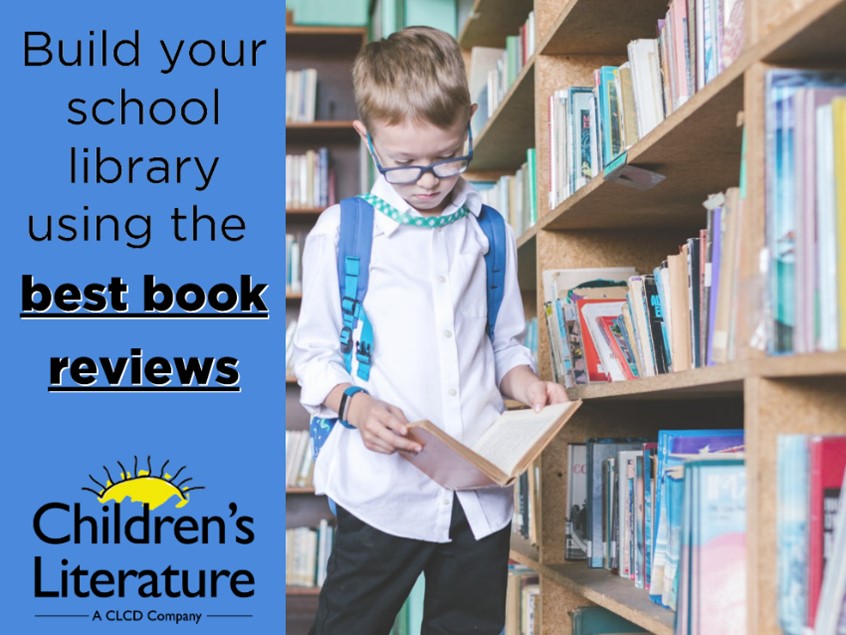 Many of our PreK-12 education subscribers will return to work in just a few days. We are saddened to read more stories of book challenges even before the new school year begins. How can you plan a history lesson around a book you have used for years but is now being challenged? Will you continue to use the text, or will you need to find a substitute text? Most Children's Literature reviewers are current, retired, and upcoming teachers and librarians. They understand the time it takes to find the right text to enhance learning. Our reviewers keep in mind classroom use, personal reading choice, and the varied interests and cultural differences that exist worldwide when reviewing each book. In this issue, we'll share some of our latest reviews and information about the Mathical Book Prize. You'll also learn about a tool filled with thousands of book reviews, curriculum tools, subjects, and age suggestions- an extremely useful tool when faced with book challenges.
Subscribe to ChildrensLit Now Newsletter
In case, if you have missed our previous issue.
ChildrensLit Notable Reviews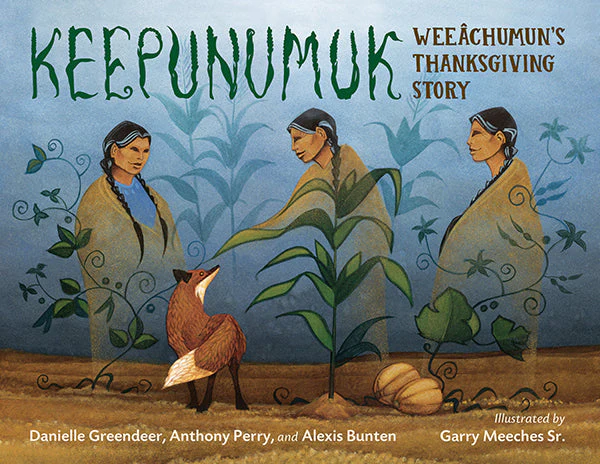 Keepunumuk: Weeâchumun's Thanksgiving Story
By: Danielle Greendeer, Anthony Perry, and Alexis Bunten
Illustrated by: Garry Meeches Sr.
Publisher: Charlesbridge
ISBN: 9781623542900
Reviewer: Lisa Czirr
Although storytelling is at the heart of the Wampanoag tradition, their perspective of the first Thanksgiving is all too frequently left out of American classrooms. Fortunately, this picture book brings the Native American or First Peoples' side of the story to life. The book begins with a note for context, alongside a short glossary with pronunciations of the authentic Wampanoag words used throughout. The story itself is framed with a modern-day grandmother telling the tale to her two grandchildren in the oral tradition of their people. The grandmother sets the scene with Weeâchumun, the spirit of corn, glimpsing the incoming ships of the new arrivals. A harsh winter hits the settlers, who are unprepared and unfamiliar with the new land. It is up to Weeâchumun, Fox, and the other spirits and animals of the land to determine whether they will help these strangers. They prompt the native First Peoples to offer assistance by sharing their knowledge of the land and crops. Eventually, the two groups of people gather together for the famous feast that represents the first Thanksgiving. Although this specific meeting was peaceful, there are also reminders of the negative, lasting impacts of colonialism as well. The book concludes with a map of the Wampanoag tribes and other information, and even a nasamp recipe. The authors are all tribal members, lending their authentic voices and viewpoints to this story. This book will be an essential addition to all classrooms and libraries in order to ensure a more diverse representation in their Thanksgiving collections.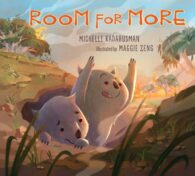 Room for More
By: Michelle Kadarusman
Illustrated by: Maggie Zeng
Publisher: Pajama Press
ISBN: 9781772782523
Reviewer: Mary Lanni
Wombat buddies Scratch and Dig are extremely proud of the extensive and sizable burrow they have constructed, especially as they watch a dangerous brush fire quickly approach one fateful day. They count themselves to be quite fortunate as the flames draw closer because they know they can find refuge inside their carefully constructed home. Animals of all types flee the impending flames, but by the time they reach Scratch and Dig's burrow, they are tired, hot, and unable to continue. Luckily, wombat burrows are bigger than they might initially appear, and Scratch reluctantly agrees with Dig's offer to invite other creatures inside to stay safe. Little do they know that this magnanimous decision will dramatically impact their own lives in the not-too-distant future. This charming story connects young readers both with real-life creatures and events found in Australia and with the universal concept of neighborliness. Digitally rendered illustrations invite readers to the Australian bush, where wombats, koalas, wallabies, and tiger snakes all reside. Muted hues of the Australian landscape make the experience more palpable to readers, especially as fire ultimately gives way to rain. Utilizing primarily dialogue and a repetitive structure, the narrative is easily accessible to young readers and gives them a foundation from which to discuss both the creatures and the events from the plot after the story ends. At the book's conclusion, readers find both an author's note and a glossary that provide more detailed information about the inspiration for the story and the real-life characters and events featured within it. This is an educational and uplifting story about how friendship and open-mindedness can unite a community of otherwise disparate creatures, and it is a unique addition to library collections for young readers.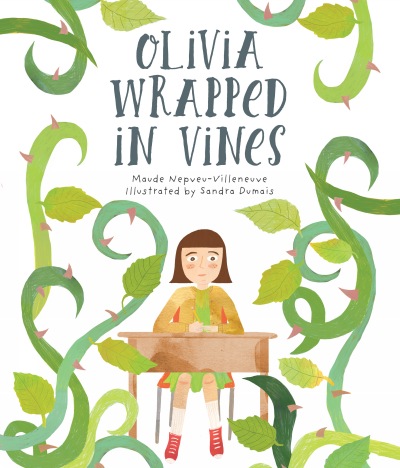 Olivia Wrapped in Vines
By: Maude Nepveu-Villeneuve
Illustrated by: Sandra Dumais
Publisher: Orca Book Publishers
ISBN: 978-1-4598-3103-2
Reviewer: Rebecca Luxmore
Looking for a way to explain anxiety to children? Meet Olivia. Olivia rides a bike, has a favorite stuffed animal, and sometimes invisible thorned vines grow in Olivia's belly. These vines wind around her, stopping her from moving. Olivia makes a list of the things that make the vines grow, but sometimes the vines grow for no reason. When the vines grow, Olivia worries others will either laugh at her or be mad at her. Sometimes breathing exercises help Olivia control the vines, but when faced with something terrifying, Olivia cannot stop the vines from taking over. With help from her teacher, Olivia learns a new strategy for living with her invisible, thorny vines. A good introduction to anxiety, this book ends with an author's note explaining Olivia's vines are anxiety, tips to help reduce anxiety, and questions to help the reader connect their experiences to the book. Large, full-page illustrations help the reader feel the range of emotions Olivia experiences, and the combination of ink, watercolor, and marker generates colorful and textured pictures. While geared towards young children, adults and older children will like this book and find it useful.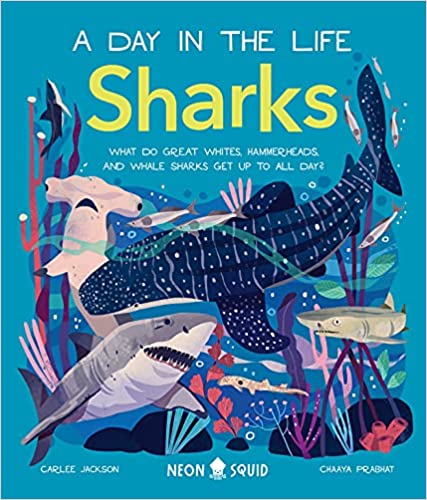 Sharks (A Day in the Life): What Do Great Whites, Hammerheads, and Whale Sharks Get Up To All Day?
By: Carlee Jackson
Illustrated by: Chaaya Prabhat
Publisher: Neon Squid
ISBN: 9781684492190
Reviewer: Joanna Migo
What would it be like to spend a day in the life of a shark? What do these mystical, mammoth underwater specimens do all day? Fascinated as a young child, a marine biologist dives into the dark blue waters to teach children about the misunderstood shark species. Captivated by her curiosity for these fascinating, fanged fish, she has devoted her life and many hours to observing and studying them, sharing her knowledge in a creatively formatted book perfect for elementary-age children. This book will bite the reader's intrigue with its thoughtful text features, vibrant illustrations, and impressive facts. The book offers detailed diagrams of shark anatomy, introduces sophisticated academic vocabulary, and provides captivating captions with each picture. Children will learn about shark habitats, the different species of sharks worldwide, their predatory skills, and acquire knowledge about some truly unusual shark types, among other topics. Jackson provides a book that invites children to rethink their idea of this underwater predator. In this book, children will discover that these mysterious sea creatures, assumed only to be cold-blooded killers, are brilliant and unique and are a species with marvelous diversity and contribution to our underwater world.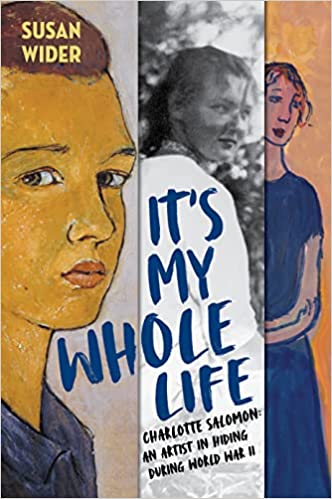 It's My Whole Life: Charlotte Salomon: An Artist in Hiding During World War II
By: Susan Wider
Publisher: Norton Young Readers
ISBN: 978-1324015451
Reviewer: Kathryn Sadakierski
Art is powerful, and so is the human spirit illuminating it. In the first book for youth about the artist Charlotte Salomon, Wider recounts the true story of a young woman who finds her voice in one of history's darkest times, creating beauty amidst personal and global challenges. Salomon, a Jewish painter in her twenties, contends with anti-Semitism amplified by the rise of Hitler in her native Germany. Eventually escaping to France, she documents her life through painted scenes while remaining hidden in a villa. After Salomon is sent to Auschwitz, her fate, along with that of her art, hangs in the balance, but the legacy of her fortitude, determination, and talent persists. Ideal for teaching about art history, World War II, the Holocaust, and women's studies, this book balances historical fact with an engrossing creative nonfiction narrative that immerses readers in critical junctures in Salomon's life so that they, too, feel like they are inhabiting the scenes Salomon paints. Budding artists will especially appreciate Wider's commentary on the technique and symbolism of Salomon's work. Told like a mystery, the story immediately grips the reader, though its jumps in time are initially jarring. Young readers may find the content triggering, with many references to loss, grief, discrimination, and violence, making it more appropriate for older students. Interspersed throughout with photos of Salomon and her paintings and supplemented by a family tree, chronological timeline, notes, and a bibliography including such sources as recordings, films, and interviews, the book is a launchpad for students' research into the era. However, there are no recommended resources specifically for young readers. The author's note adds to the book's depth, as readers can learn how writers make personal connections to their subject matter. An impactful read, this inspiring book models tenacity through Salomon's example.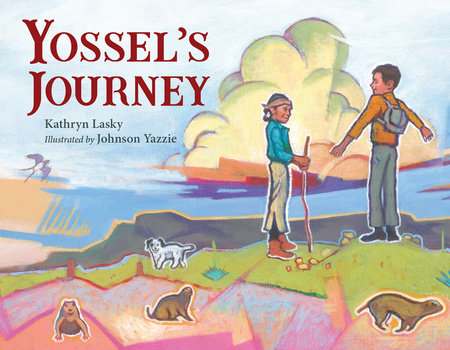 Yossel's Journey
By: Kathryn Lasky
Illustrated by: Johnson Yazzie
Publisher: Charlesbridge
ISBN: 9781623541767
Reviewer: Molly Callender
This new fictional but realistic story about Yossel, a Jewish boy who travels to America to escape religious persecution in Russia, is excellent. Yossel is used to the smell of cinnamon in his cozy home, being near neighbors, and the people in his small community- especially his best friend Moishe. Immigrating to America with his parents is a new and daunting experience. His family arrives in New York but doesn't settle there, as many immigrants did. Instead, they take trains to the southwest and settle in New Mexico, near the Navajo Nation. Yossel must get used to so many new things. He is learning English and Navajo. The mesas are tall and beautiful but different. The wide-open spaces make him feel tiny and empty. Then, one day, a young Navajo boy comes with his family to Yossel's family's trading post. Yossel comes out of hiding, and the two strike up a friendship. Yossel begins to heal and become more at peace with his new home. The originality of the story, a Jewish immigrant family settling in the southwest, is interesting and engaging for the reader. This book is beautifully written and illustrated. The artwork is stunning, done in acrylic paints that look more like blended oil pastels. The Navajo artwork with the well-written narrative intertwines the two cultural traditions perfectly. The author includes a helpful historical note about other Jewish groups who fled to this area, as well as continued reading sources. This book is a fantastic read-aloud, enabling interesting discussion for students. Pairing this book with similarly themed upper grade novels, such as Blood Secret or The Length of a String, would be an excellent literature study for intermediate students. This book is highly recommended.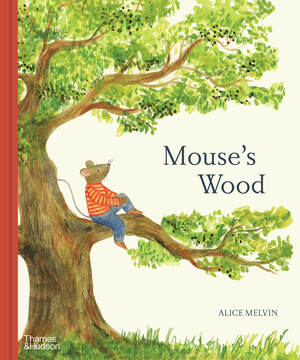 Mouse's Wood: A Year in Nature
By: Alice Melvin
Publisher: Thames & Hudson
ISBN: 9780500652701
Reviewer: Amber Judkins
Follow Mouse along the journey through the woods as they experience the beauty of the changing seasons. Each month brings its own unique beauty, and the reader can take note of the changing scenery and meet Mouse's friends. This book features incredibly detailed illustrations of nature and the homes that Mouse's friends live within. Most pages also include beautiful flaps that can be lifted to reveal more details of the homes featured. This book is sure to be a hit during read-aloud, and it can be used to spark numerous conversations about Mouse, his friends, the homes they live in, seasons, and more. The end of the book features a two-page spread about the months of the years and things that the reader can spot in nature during each month. The last page features details about all of the animals mentioned in the previous pages that are introduced as Mouse's friends, such as Badger or Otter, and gives a few facts pertaining to each one. This book is sure to spark the curiosity of a nature-driven individual and is highly recommended.

Children's Literature Comprehensive Database
The largest children's literature database of full-text reviews, including national and international awards, curriculum tools, subjects, and reading metrics available
For over 20 years, CLCD has been a leader in providing diverse, unbiased reviews and one search access to PreK-12 media of all types. Our staff compiles and creates information such as book reviews, thematic lists, award listings, and curriculum tools to provide an extensive collection of materials to meet your needs in an easy-to-use format. With Advanced Search, Power Search, and Award Listing search strategies, along with your choice of more than 50 other limiters, finding the information you need when you need it could not be any easier.
Be ready to meet book challenges with the most information all in one place
Over 1,000,000 Titles
More than 50 Professional Review Sources (600,000+ Reviews).
1000+ National and International Young Adult and Children's Book Awards
Thousands of Regional, State, and National Best Books Lists
Lexiles, Accelerated Reader, and Reading Counts RMPs
Thousands of Author/Illustrator Links
Contact sales@clcd.com for more information and district-wide discounts
Book An Author
Mary Bleckwehl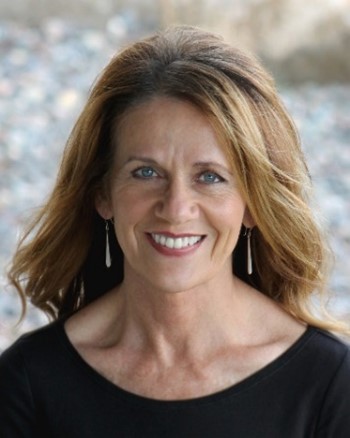 Mary Bleckwehl grew up in a large farm family with a love of the outdoors and rolling hills of northeast Iowa. As a writer, she draws on her imagination and childhood experiences in addition to her years of parenting and teaching. Mary's first three published books are her award-winning picture books, Henry you're late AGAIN, Henry you're hungry AGAIN? and Claire's Hair, which showcase the humor and empathy she sees in children. She craves variety and also writes nonfiction and fiction for the middle grade audience. In 2022 Mary had five new books published, including her debut novel for upper middle grade, The Worry Knot. She has five nonfiction books: The Birthday Cookbook and four books in The Awesome Disgusting Careers series from Black Rabbit Books. In 2023, a new middle grade novel will be released as well as another picture book in 2024. Passionate about promoting literacy, Mary works to inspire young readers and writers to dream big and look for opportunities to take on challenges.
Mary is available for in-person and virtual visits Monday through Thursday for ages 0 to 12, and her presentations include a character dress-up.
Chiêu Anh Urban
Chiêu Anh Urban is an author/illustrator, award-winning graphic designer, and novelty format designer. She specializes in developing interactive, playful books that provide fun learning and exploration for the youngest readers. Chiêu's novelty titles include 123 ZOOM and ABC ROAR (2022) with Little Simon/S&S and board book series ILLUSIONS IN ART (2023) with Candlewick Press. She is the creator of Color Wonder Hooray for Spring!, Color Wonder Winter is Here!, Quiet as a Mouse: And Other Animal Idioms, Away We Go! and Raindrops. Chiêu holds a BFA in Communications Art and Design from VCU School of Arts.
Chiêu is available for in-person visits, and her presentations include an interactive story time and book-themed related crafts.
Children's Literature's Booking Service provides direct contact with each listed author and takes no commission fees from authors or event coordinators. Want to use this valuable resource to plan your next author event?
Book Awards You Need to Know
Mathical Award
The Mathical Book Prize embodies the best of math literature in hopes of inspiring a love of mathematics for children and teens. The prize includes picture books, novels, poetry collections, puzzle books, biographies, and more. Winners are distributed by grade-level categories: PreK, K-2, 3-5, 6-8, and 9-12.
Educators will appreciate that winners are selected by a committee of teachers, librarians, mathematicians, and others. The Mathical Book Prize is awarded by the Mathematical Sciences Research Institute (MSRI) in cooperation with the Institute for Advanced Study (IAS). The prize is awarded in partnership with the National Council of Teachers of English (NCTE) and the National Council of Teachers of Mathematics (NCTM) and in coordination with the Children's Book Council (CBC). For a listing of past winners, visit https://www.mathicalbooks.org/portfolio/books/.
2022 Mathical Prize Winners-PreK
1 Smile, 10 Toes by Nelleke Verhoeff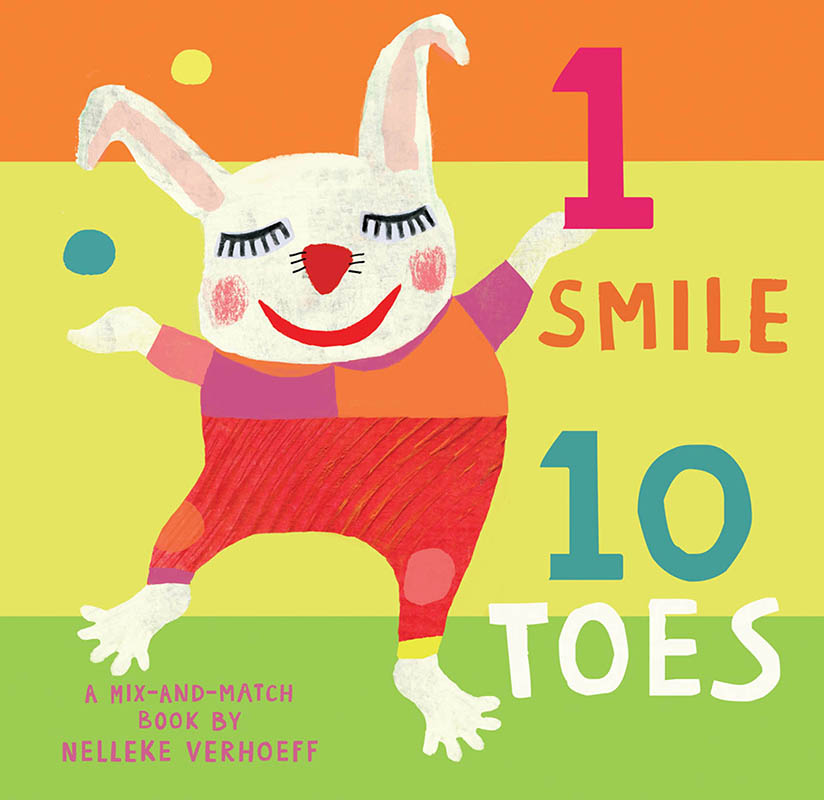 Create silly creatures and count along the way with this unique split-page book. Young readers can match heads to a variety of tails and legs to compose quirky characters. Each flap presents a new opportunity for counting and learning vocabulary words for body parts!
2022 Mathical Prize Winners - Grades K-2
Uma Wimple Charts Her House by Reif Larsen and Ben Gibson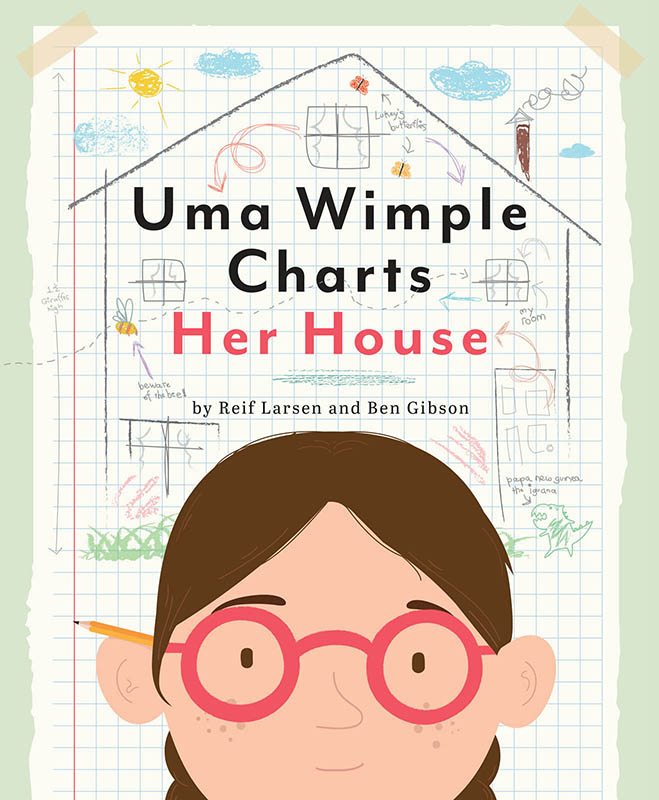 Uma's been making charts since she was a little kid. But when her teacher gives the class Uma's dream assignment–to make a chart of their own homes–she is thrown for a loop. Oh, the possibilities! Oh, the pressure! What makes a house housey? she wonders. In order to figure it out, she asks each member of her family–Mom, Dad, and brothers Rex, Bram, and Lukey. But it's not until she has a meltdown and Lukey comforts her that Uma figures out the secret to her chart–and her family. It's the love that is shared inside a house's walls. Told in first-person and featuring engaging graphic artwork, this fun and lively picture book–perfect for classroom use–is a reminder that someone's true home is not a place, but rather the people with whom you surround yourself.
2022 Mathical Prize Winners - Grades 3-5
Maryam's Magic by Megan Reid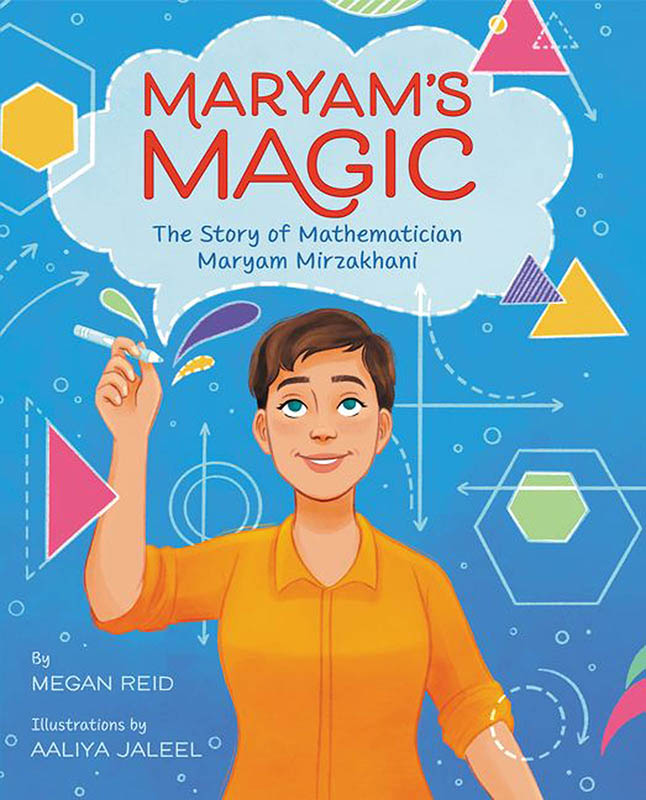 As a little girl, Maryam Mirzakhani was spellbound by stories. She loved reading in Tehran's crowded bookstores, and at home she'd spend hours crafting her own tales on giant rolls of paper. Maryam loved school, especially her classes in reading and writing. But she did not like math. Numbers were nowhere near as interesting as the bold, adventurous characters she found in books. Until Maryam unexpectedly discovered a new genre of storytelling: In geometry, numbers became shapes, each with its own fascinating personality—making every equation a brilliant story waiting to be told. As an adult, Maryam became a professor, inventing new formulas to solve some of math's most complicated puzzles. And she made history by becoming the first woman—and the first Iranian—to win the Fields Medal, mathematics' highest award. Maryam's Magic is the true story of a girl whose creativity and love of stories helped her—and the world—to see math in a new and inspiring way.
2022 Mathical Prize Winners - Grades 6-8
AfterMath by Emily Barth Isler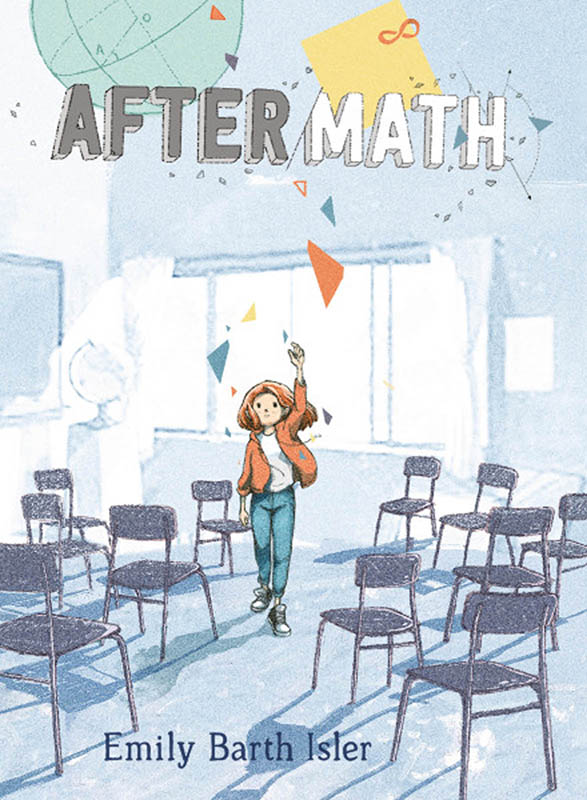 After her brother's death from a congenital heart defect, twelve-year-old Lucy is not prepared to be the new kid at school―especially in a grade full of survivors of a shooting that happened four years ago. Without the shared past that both unites and divides her classmates, Lucy feels isolated and unable to share her family's own loss, which is profoundly different from the trauma of her peers. Lucy clings to her love of math, which provides the absolute answers she craves. But through budding friendships and an after-school mime class, Lucy discovers that while grief can take many shapes and sadness may feel infinite, love is just as powerful.
The full list of books chosen in 2022, winners and honor books, can be found at
https://www.mathicalbooks.org/2022/02/2022-mathical-winners-announced/.
ChildrensLit Highlights
★ Children's Literature has recently updated its publisher review contacts. If you are a publisher who has been sending us your latest titles but hasn't received a copy of your completed reviews, we may not have received your latest review contact email. Please email Shelley Oakley at shelley.oakley@childrenslit.com with your most up-to-date contact information.